Microsoft Dynamics 365 Business Central (MD365) has finally launched in New Zealand and Australia.
Business Central brings the full power of Dynamics NAV to the cloud. Dynamics NAV is a enterprise resource planning platform that assists with finance, manufacturing, customer relationship and more.
What does it do?
MD365 is a cloud-based, business management software solution that's set out to replace most entry-level accounting software or ERP systems.
It offers a single platform that will allow business owners to manage their finances, operations, sales and customer service.
A common problem many business owners face is the vast amounts of different software solutions and platforms they need to juggle.
For example, your sales CRM might manage just one aspect of your business, while your finance platform might not integrate smoothly, resulting in information silos.
This often causes additional costs for business owners and reduces productivity.
MD365 aims to remove business silos by providing a platform that combines all of these requirements into a single solution with the focus of cutting costs and raising productivity.
It also allows for automated tasks and workflows, all within popular Microsoft applications like Word, Outlook and Excel.
It also provides key insights into your business with connected data, business analytics and guidance with Microsoft's intelligent technologies.
Lastly, MD365 will continually evolve and improve in real time as it is cloud based and flexible to fit a wide range of business needs.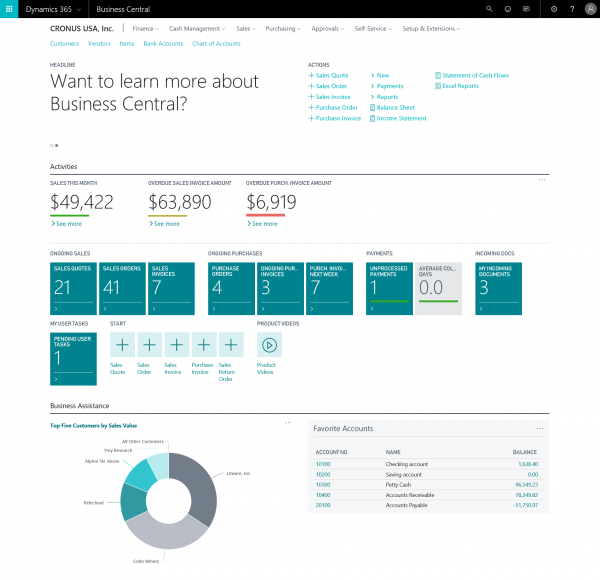 How much will it cost?
Currently, MD365 can range in price from $40 to $210 per user every month (depending on business requirements).
All users on a single account must have the same license type so you won't be able to mix and match different levels of service.
Why businesses are switching over
One of the key reasons why business owners are switching over to MD365 is because of it's flawless integration with other Microsoft cloud services like Office 365.
It also simplifies many day-to-day business functions and can be customised with PowerApps, Microsoft Flow and Power BI.
One of the biggest reasons that business owners may want to switch to MD365 is because of the power it gives over sales and customer data.
For example, a survey of 300 small to medium businesses in Australia revealed that 74% believe that increasing the customer base is the way to grow their business and 60% say that maintaining and growing their current base is high on their priority list.
MD365 Functionalities
The Microsoft Dynamics 365 Business Central Essentials contains:
Customer Relationship Management - data related to contacts, marketing campaigns and opportunity management - all of which have built-in integration
Financial Management - can replace most entry-level accounting platforms as it allows for a general ledger, workflows, audit trails, bank management, budgets, deferrals, dimensions, bank reconciliation, fixed assets and currencies
Supply chain management - includes functions such as sales order management, purchase order management, receivables, item transfers and basic warehousing
Human resources - allows for employee and expenses management
Project Management - functions include resources, estimates, jobs and time sheets
Would you like help installing Microsoft Dynamics 365 Business Central Essentials?
If you need assistance installing MD365, look no further!
At Result IT, we've been serving thousands of happy customers and we specialise in all things tech-related.
We're the geeks you can rely on to handle the technological aspects of your business, so you can focus on operating and generating sales in your business.
So if you'd like to know more about MD365, please get in touch with us for a free consultation.
We're also offering a special $20 discount to all readers of our blog and newsletter!
You can contact us by clicking here, or call us at (09) 526 1800.
We're located at:
67 Station Road East,
Penrose, Auckland.
Just mention that you're a reader of our blog and newsletter, and we'll slash $20 off the quoted price for the service you need!